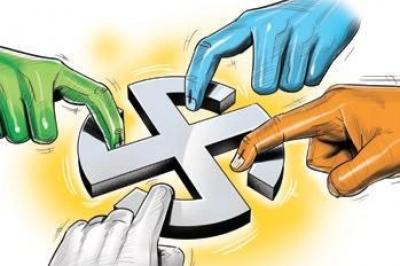 All the three major political contenders in the Dubbak bypoll are now busy evaluating who has gained and who has lost in the episode involving police over action on BJP leaders. There is a general feeling that the BJP is the biggest gainer in the whole episode as it is seen as the underdog.
The thinking heads of the TRS have realised that the party did not gain much from the episode when compared to the BJP. The BJP played victim to the core and leveraged on its social media presence to the fullest advantage. Activist president Bandi Sanjay and firebrand leader Aravind Dharmapuri too managed to grab attention and get some mileage for the party.
To offset the BJP's advantage, the TRS made the police reveal some footage of the raids they conducted. This, the BJP feels, will only benefit it. It organised protests everywhere in Telangana as part of the effort to gain mileage. It is questioning as to why the police were not raiding the TRS candidate and the key leaders. As if to reassert itself, the TRS held a massive rally in Thoguta on Monday.  The parties are now assessing the aftermath of the raid on Raghunandan Rao's relatives.