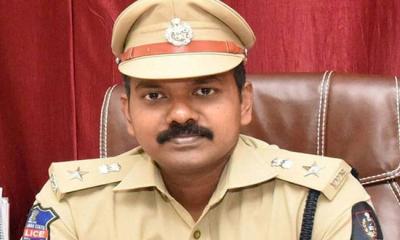 Ahead of the Dubbaka bye-election, the political temperature increased at once with Siddipet police conducting raids at the residence of Raghunandan Rao, the BJP's candidate in the elections.
Police claimed that a sum of Rs 18.65 lakh was seized from the residence of Raghunandan Rao's relative in Siddipet. Later, raids were conducted in Raghunandan Rao's residence too.
Following this, Lok Sabha member and serving State President of Bharatiya Janata Party(BJP) for Telangana Bandi Sanjay Kumar headed to Siddipet to meet Raghunandan Rao.
A tense situation arose when the cops arrested the State President en route to Siddipet and sent him back to Karimnagar.BJP activists have indulged in a war of words with the cops over the way they treated the MP.
Bandi Sanjay slammed the district police against his arrest and demanded that Siddipet Police Commissioner Joel Davis should be suspended from his post for mishandling him.
Amid growing political controversy, Joel Davis broke his silence on the issue and addressed the media to clear all the airs surrounding the BJP State President's arrest.
Addressing the media, he rubbished the reports of mishandling the MP and maintained that they had to arrest him as his visit to Siddipet would create a law and order problem.
"First, Bandi Sanjay informed the police that he will not visit Siddipet. Without informing us he reached Siddipet. As this might create a law and order issue, we have sent him back," media reports quoted Siddipet Police Commissioner.