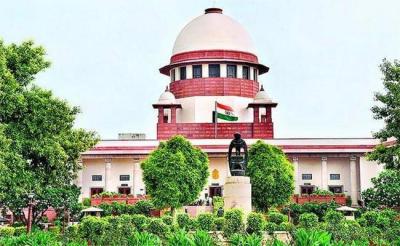 The Supreme Court heard a case on the much talked about land allotments for the construction of the Telugu Desam Party(TDP) party office in the Mangalagiri region of Andhra Pradesh.
The petition was filed by Mangalagiri YMLA and YSRCP leader Alla Ramakrishna Reddy challenging the land allotment claiming that several environmental regulations were violated.
The Constitution bench led by Justice Rohinton Fali Nariman heard the arguments of both sides and served notice to Telugu Desam Party(TDP), AP government, and CRDA.
The bench directed them to give a reply within three weeks. The Apex court will hear the case after three weeks.
Back in June 2017 when TDP was in power, the party took 3.6 acres of land for lease for 99 years at a cost of Rs 1000 per acre. TDP has built a party office in the land.
Alla Ramakrishna Reddy, who alleged that the land was allocated by violating several norms filed a PIL challenging the land lease, However, his PIL got rejected. Later he filed a petition in the Supreme court.