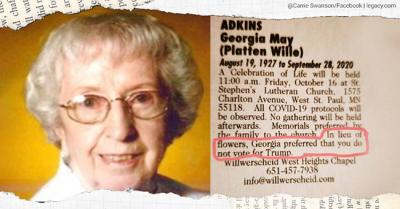 Ahead of the much-awaited US Presidential Elections 2020, President Donald Trump and his opponent Joe Biden are putting all their efforts to win the elections and make it to the White House.
Amid this, an obituary of an old woman took social media like a storm as it relates to the upcoming Presidential elections. She requested the voters to don't vote for Donald Trump.
Going into details, 93-year-old Georgia May Adkins who hails from St. Paul, the capital city of Minnesota passed away on September 28, 2020, due to a heart stroke.
Her obituary printed in a local newspaper with all her last wishes, including requesting the public to not vote for Donald Trump set social media ablaze.
With the US Presidential elections just weeks away, her obituary gained a lot of significance. Many Social media users showered praises on her for making having wishes for the public in the country.