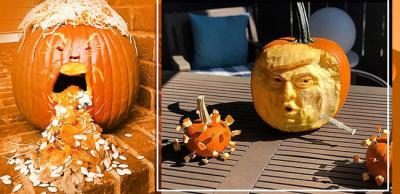 It is very common to see pumpkins with attractive features and details carved on them during Halloween time.
As the occasion is less than eight days away and people in the west have started collecting pumpkins and carving faces on them.
Ahead of presidential elections, pumpkins carved to resemble the face of US President Donald Trump have created a lot of buzz on social media.
Some of the Democratic party activists carved out on pumpkins like Trump's face, instead of the traditional Jack-o-Lantern.
The trend had first started in 2016 when Trump had first run for the presidential election. And in 2020, it is seen again as he is getting ready to go up against Democrat nominee, Joe Biden. Many viral images even showed the Trumpkins wearing wigs with the shade resembling the hair colour of Trump.