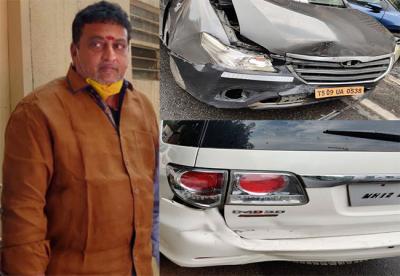 Tollywood comedian and YSRCP leader Prudhvi Raj met with a road accident near Basavatarakam Cancer Hospital on Monday. The ace actor who is referred to as "30 years industry" posted a picture of his damaged vehicle on social media.
"I met with an accident near the cancer hospital at Banjara Hills. An SUV crashed into my car and my car is damaged. People have gathered at the place of incident," he wrote.
According to reports, a Toyota Innova car coming from the other side has hit the actor's Fortuner car from the backside. He suffered no injuries in the collision but the people in the opposite car is said to have suffered severe damages.