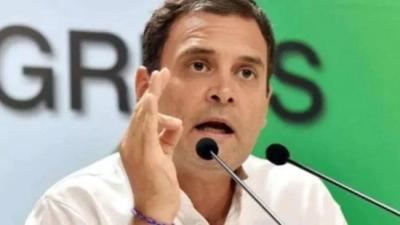 Former party chief and Congress MP Rahul Gandhi broke his silence on the stir caused by senior Congressmen Kamal Nath's controversial item remark on BJP leader Imarti Devi.
Addressing the media Rahul Gandhi said, Mr. Kamal Nath belongs to his party, but he didn't like the language he used and he will not appreciate such type of language. He is the first Congress leader to react to the controversy
Ahead of the Madhya Pradesh by-polls, Kamal Nath campaigned in the Dabra constituency on Sunday. Speaking at the event, Kamal Nath called Congress leader Suresh Raje as a simple person and termed Imarti Devi as 'item'.
During the event, the former Madhya Pradesh Chief Minister said, why should he take the name of the BJP leader." What an item" he added.
The crowd present at the event cheered and clapped when the former Chief Minister made these controversial comments. Instead of apologizing for the comments, Kamal Nath called it an ordinary term.
The other day, Chief Minister Shivraj Singh Chouhan slammed Mr. Nath over his comments and held a silent protest against the remark. The CM has written to Congress supremo Sonia Gandhi to take action against the leader.