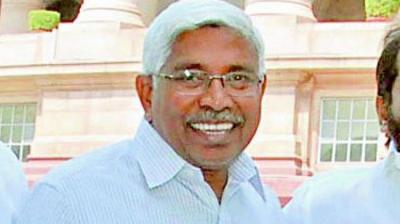 Political dilemmas and indecision seem to be taking their toll on TJS chief and former chairperson of the Joint Action Committee on Telangana Prof Kodandaram. His attempts to contest as an MLC from Warangal-Khammam-Nalgonda Graduates seat seems to be coming to a naught. No party appears to be backing him.
But, his biggest dilemma is what to do with Dubbak bypoll. He is unable to decide whether he should support the Congress or not. He is unhappy with the Congress as it has not supported his bid to become a candidate for the Graduate MLC elections. But, if he takes no stand, he would be seen as non-serious politician.
To add to his problems, in the 2018 assembly elections, Dubbak seat was given to the TJS as part of the alliance agreement.But, TJS candidate had contested on Congress symbol. Thus effectively he was a Congress candidate. It is another matter that he lost the elections to Solipeta Ramalinga Reddy. But , this time, should the TJS support the Congress or not is the question. If the TJS stays away from extending its support to the Congress, it would be seen as pro-TRS or at least indirectly helping the TRS. If he supports the Congress, he would be seen as frittering away his political capital without gaining anything in return.
So, this dilemma is bugging Prof. Kodandaram. This professor of political science must surely be realizing that practicing politics is a lot more difficult than teaching them.