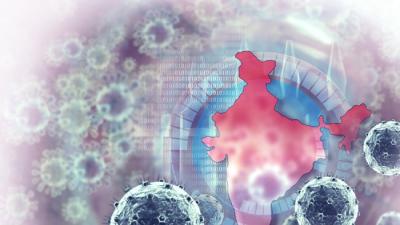 A day after reporting the lowest fresh cases in five days, India reported over 46,000 fresh Coronavirus infections in 24 hours, the lowest new cases in a single day in the last three months.
With the latest addition of 46,790 fresh cases in the past 24 hours, the total infections in the country surpassed the 75-lakh mark and rose to 75,97,063.  
On the other hand, the total Covid-19 recoveries zoomed to 67.33 lakh including as many as 69,720 patients being cured of the virus in 24 hours. The country's recovery rate stood at 88.63%.
The fresh Covid-19 fatalities too decreased as 587 patients have succumbed to the virus in 24 hours. So far a total of 1.15 lakh patients lost their lives to the virus with a fatality rate of 1.52%.
The data issued by the Union Health Ministry stated that the country has  7,48,538 active cases of the Covid-19 pandemic. This translates to  9.85 percent of total infections.
The global infections surpassed the mammoth 4 crore mark and mounted to  40,462,338. While 30,232,844 patients have been recovered so far, 1,120,715 patients succumbed to the virus.