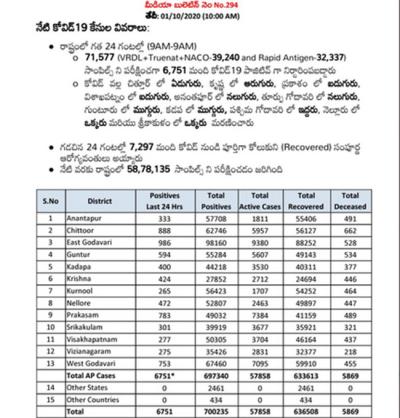 Despite bringing down the average of fresh cases, total infections in Andhra Pradesh surpassed the 7-lakh and reached  700235, with the fresh addition of cases.
The data of the Health Ministry stated that 6751 patients out of the 71,577 samples tested in the past 24 hours were found positive for the novel Coronavirus.
On the other hand, for the first time, the recover cases in the state have almost tenfold than the active cases. The recovered cases and active cases stood at 6,36,508 and 67,858 respectively.
With fresh casualties dropping 41 patients lost their lives in the last 24 hours, taking the toll of the total casualties in connection with COVID-19 to 5869.
Looking at the regions with the highest number of cases, East Godavari is at the top-most slot with 98160 cases, while West Godavari(67460), Chittor(62746) are the next positions.