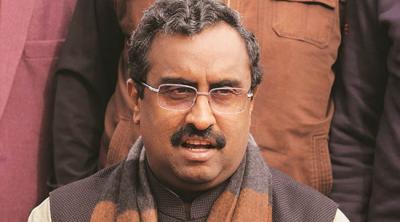 The buzz around BJP's rising sun Ram Madhav's career getting obscured by dark clouds of removal from the top team is refusing to die. Many speculations are being pushed forth about his removal from the national team. From the post of the very important general secretary, Ram Madhav is without any post in the party. There is no mention of what the party is going to do with him.
Some highly placed sources, however, claim that Ram Madhav may go back to his parent body, the RSS. Ram Madhav has been an RSS pracharak from Andhra Pradesh since 1982 and has worked in Andhra Pradesh till 2000, before leaving for Delhi. In Delhi, was made the party spokesperson. It is then that he had achieved the national fame as the articulate young gun of the party. Later, he was made all-India incharge of the organisation's intellectual activities and was then loaned to the BJP.
His rise in the BJP has been meteoric. He played a key role in JK and the North East. He was also instrumental in organizing some of the early NRI meets that Modi had addressed. But from this year, his graph suddenly began to fell. He was no longer invited to key party meets. Sources say Ram Madhav might prefer to go back to the RSS as there are already three RSS pracharaks in the top leadership. Thus there is no vacancy for him. Hence, he might go to the parent organization, the sources argue.