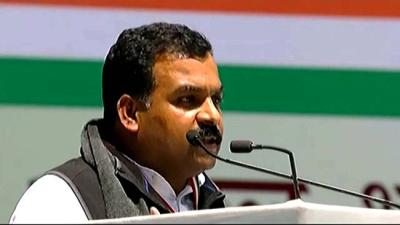 Are good days coming back for the Congress in Telangana? The new party incharge for Telangana, Manikyam Tagore is showing that he is not like the run-of-the-mill politician.
Tagore, who is on his first ever visit to Hyderabad, has refused to stay in a five-star hotel as is the norm. He is preferring to stay in an ordinary guesthouse and is freely accessible to the party workers. This is a departure from the regular practice of the other leaders who play hard-to-get.
Tagore on Saturday held a key meeting of the PCC core team. Unlike the regular practice of calling only a handful of leaders, he had ensured that all MLAs, MLCs and other important leaders were invited. In fact, he had also made it a point to invite actress-politician Vijayasanthi.  He also met a host of workers on Saturday.
Tagore will be in Hyderabad for three days and will be holding a series of meetings as part of his visit. He has also assured the party workers that he would hold the core committee meetings twice in every month to discuss both internal party affairs and also people's issues. If this same trend continues and if he manages to involve all the key leaders in the party, one can safely say that good times are back in the Congress Party.