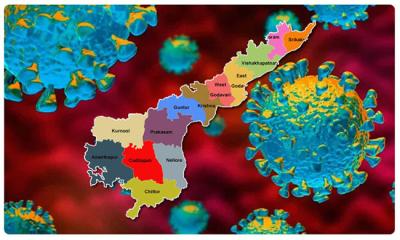 Andhra Pradesh continues its spree to witnesses around 7,000 fresh infections daily at an average, as over 7,000 new cases were detected in a single day yet again.
A total of 75,990 samples were tested in the state in the past 24 hours and 7,293 fresh infections were detected which pushes the total cases to 6,68,751. So far, 55,23, 786 samples have been tested.
The fresh recoveries continue to surge gradually as the total recoveries are nearing 6 lakh with 5,97,294 recoveries, including 9,125 patients who have beaten the virus in the last 24 hours. The active cases stood at 65,794.
As per the data provided by the media bulletin, the active cases in the state decreased by  10 percent which is a good sign of containing the novel Coronavirus.
On the other hand, so far, 5,563 patients breathed their last battling the dreaded virus, including 57 patients succumbing to the virus in a single day. The fresh casualties increased slightly.
East Godavari which is the worst-affected region in the state continues to report more than 1,000 fresh infections daily, as 1011 patients contacted the virus in the span of 24 hours.
East Godavari(93184), West Godavari(63504), Chittor(59243), Kurnool(55456), and Guntur(52709) are the worst-hit regions which account for 70 percent of the states' caseload.