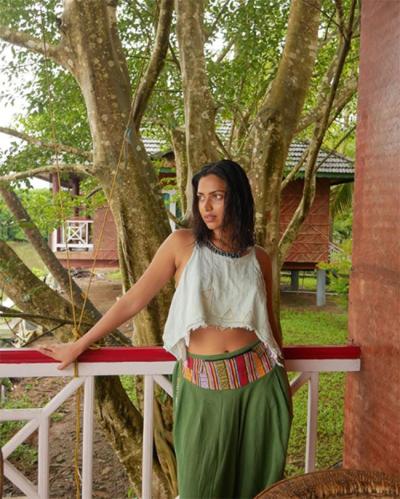 Dusky South Indian beauty Amala Paul recently took to Instagram and posted a picture where she is looking absolutely fantastic. Eyes are always the biggest attraction in Amala Paul and in this click too, it is her eyes that glues you. It looks like Amala is in some kind of a resort with a lot of greenery. With adequate skin show, Amala is surely raising the temperatures.
But Amala Paul gave some interesting information on the interesting transformation she is going through with an experience called 'Panchakarma'. She wrote, "My dearest fam, You already know by now that my profile is a reflection of my life. In my unending journey towards becoming the best version of myself, both physically and mentally, I signed up for a healing process called Panchakarma. In our fast-paced lives and western influence we seldom value the treasures of our ancestors. They've left behind a gold mine of information just waiting to be put into practice. This treatment was a complete transformation, a story of purging and revival. It takes immense self-control and strength to go through this process, I am amazed with things the mind is capable of doing. Follow me along for the next few days as I take you along my experience of 180° transformation.
Let us wait and see how the 'Nayak' girl gets transformed in the next couple of weeks.