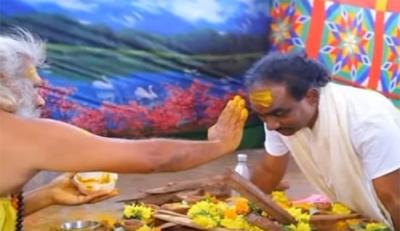 Former minister-turned-BJP activist Ravela Kishore Babu is a man of many parts. He changes his hats whenever he changes his political affiliation no matter even if they are diametrically opposite. This man, who preached gospel and sang psalms while in TDP, is performing homams and sporting RSS uniform these days. The reason? He is now in the BJP.
Ravela Kishore Babu was an IRS official and had sent his wife into Praja Rajyam during 2009 elections. After she lost the elections, he himself joined the TDP and won from Prattipadu. Luckily for him, Chandrababu Naidu made him a minister. But, he was later dropped a tad too unceremoniously. Angry and upset, he joined Jana Sena, contested from Prattipadu and lost the elections. Later, he joined the BJP.
Once he joined the BJP, the pastor suddenly became a devout Hindu. He began performing Homams and yagams. He has also started sporting Tilakam and Vibhuti. The latest is that he has sported the RSS uniform. The images of his three avatars are now doing rounds on the Internet. But, will all these help him in resurrecting himself? Let's wait and watch.