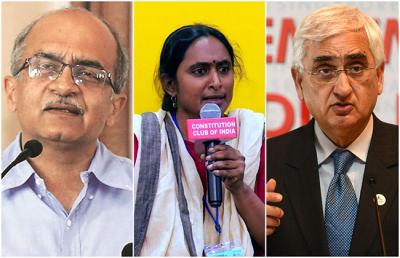 The special cell wing of the Delhi Police, which filed a 2695-page-long charge sheet on the infamous anti-CAA riots has allegedly names politicians who gave provocative speeches.
News Agency Press Trust of India(PTI) in its report said that Senior Congressmen and former Union Minister Salman Khurshid, Udit Raj, and CPI(M) leader Brinda Karat were named in the charge sheet.
According to the statement of a protected witness, the people named in the charge sheet gave provocative speeches during the anti-Citizenship Amendment Act (CAA) protests.
Former Jawaharlal Nehru University alumnus Umar Khalid, student activist Safoora Zargar, JNU student Sharjeel Imam and others were believed to reach the anti-CAA protest site in Khureji national capital and give provocative speeches.
It has been reported that the names of the above-mentioned people were added in the list based on the statements given by the suspects and witnesses over the alleged conspiracy behind the Delhi riots.
Responding to being named in the charge sheet, Salman Khurshid made some rather shocking remarks. He said Provocation is not a criminal offense in the country.
He said that the charge sheet is meant to be authentic and opined that it should be used as a piece of useful evidence.
The anti-CAA riots that rocked the north-east part of the national capital Delhi has resulted in 53 people losing their lives, while 607 victims sustained severe injuries, according to Delhi cops.