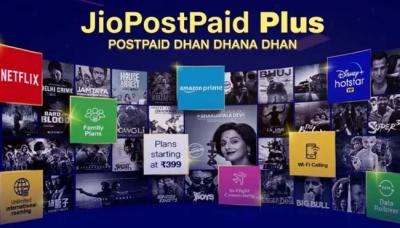 India's most valuable company Reliance, which already enjoys a good hold of the telecom market made a sensational move to dominate the telecom market.
As a bid to foray into the postpaid mobile users' segment, Reliance Jio announced five tariff plans for the postpaid users. The tariff plans ranging from Rs 400 to 1500 come with a lot more benefits compared to other service providers.
JioPostpaid Plus has announced five tariff plans for the postpaid mobile users. The starting and the affordable postpaid plan is priced at Rs 399, which offers unlimited voice calls and SMS messages and 75 GB data.
Along with this, users will get subscriptions to Netflix, Amazon Prime, Disney+ Hotstar, JioSaavn, JioCinema, and JioTV as complimentary perks.
The second plan fixed at Rs 599 comes with the same perks, but the data offered under this plan is 100GB in one billing cycle.
Rs 799, Rs 999, and Rs 1,499 are the other plans announced by the JioPostpaid Plus. Rs 799 comes with 150 GB data and two extra Jio SIMs under the Family Plan, with all the perks.
While Rs 999 and Rs 1499 plans come with 500GB data rollover and offer 200GB and 300GB per data cycle respectively.