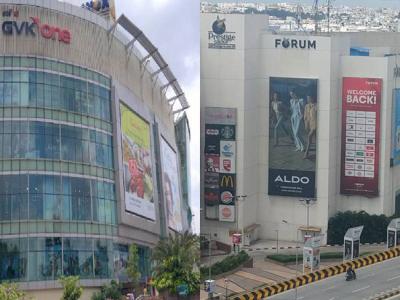 Two leading shopping malls in Hyderabad City were slapped with a fine after the Greater Hyderabad Municipal Corporation (GHMC) received complaints of erecting advertisement banners against the norms.
GHMC slapped a fine of Rs 2 lakh and Rs 4 lakh for GVK One Mall and Forum Sujana Mall respectively on the grounds of erecting advertisement banners.
Complainant Vijay Gopal reached out to the Enforcement, Vigilance, and Disaster Management (EV&DM) wing of GHMC on Twitter and shared a picture of illegal banners on the walls of GVK one mall.
On the other hand, the issue of Forum Sujana Mall reached the EV&DM team after a complainant Anila Thota reached to the wing.
The Central Enforcement Cell, GHMC responded to the tweets of both the complainants and said that E-Challan for erecting illegal banners was generated and shared the soft copy of E-Challans too.
Under Sections 420, 421 of the GHMC Act, the size of advertisements and name boards should not exceed 15 percent of the frontage of the building. Using banners that are more than 15 % of the frontage is an offense under the act.