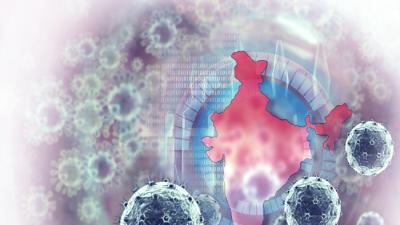 Day after surpassing the 55 lakh-mark in Coronavirus infections, India reported over 83,000 fresh infections in a single day taking the caseload of the country over 56 lakh.
In the last 24 hours, 83,347 people were found infected with the Coronavirus. With this, the total case in India zoomed to a mammoth 56,46,010, according to the Union Health Ministry.
In a piece of good news, the total recoveries in India went past 45 lakh with 45,87,613, including 89,746 patients being cured in the past 24 hours. India's recovery rate rose to a record 81.25 percent. There are 9,68,377 active cases in India.
Total fatalities in India in connection with the ongoing pandemic rose to 90,020 with a fatality rate of 1.59 percent, including 1,085 people breathing their last battling the virus in the last 24 hours.
In a span of less than one month, India added over 30 lakh to the country's caseload. As on August 7th, infections in India surpassed 20 lakh-mark, while on 16th September, the count surpassed the 50 lakh mark.
Telangana reported as many as 2,296 fresh Corona infections and 10 fatalities in a span of 24 hours. With this, total infections and fatalities rose to 1,77,070 and 1062 respectively.
On Tuesday, Andhra Pradesh added 7553 fresh infections and the total infections in the state mounted to 6,39,302. So far, 5,461 patients succumbed to the contagious disease.
The global caseload of Coronavirus rose to 31,764,198, while a total of 23,371,496 patients have been recovered so far. Globally, 974,559 have lost their lives to the pandemic.
United States(7,097,598), India (5,640,496), Brazil((4,595,335) and Russia (1,115,810) are the worst-affected countries globally with Coronavirus outbreak.