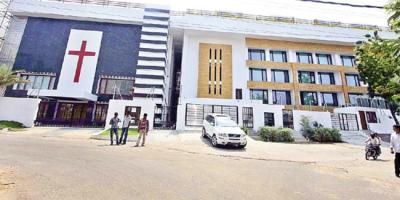 Police personnel were deployed in large numbers near AP CM Jagan Mohan Reddy's residence in Lotus pond in Hyderabad after the Bajrang Dal called for a protest outside his house.
The Bajrang Dal members alleged that the attacks on Hindu temples and religious conversions increased in Andhra Pradesh after Jagan Mohan Reddy became Chief Minister.
Following this, the Police department deployed 300 police personnel at his residence as a precautionary measure, and barricades were set up to restrict the public movement in the area.
Earlier, Bajrang Dal members protested in AP over the ancient Antarvedi temple chariot getting glued to fire. Later, the case was handed over to CBI for a deeper investigation.