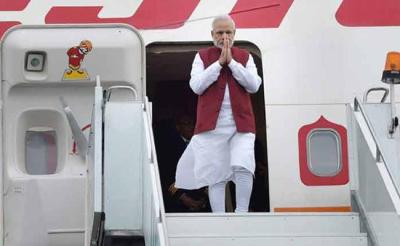 In a written reply in the Upper House, the government released the list of countries visited by Prime Minister Narendra Modi since 2015 along with the total expenditure of the visits.
In the written reply, Minister of State for External Affairs V Muraleedharan said PM Modi visited as many as 58 countries since 2015 and 517.82 crores were spent on the visits.
As per the details, Modi visited the US, Russia, and China five times each during this period and made multiple visits to nations like Singapore, Germany, France, Sri Lanka, and United Arab Emirates(UAE).
Out of the visits he made, multi-nation trips to take part in summits, while some visits are bilateral visits.
Notably, PM Modi made the last trip in 2019 on November 13-14 to visit Brazil. During this visit, Narendra Modi attended the BRICS (Brazil-Russia-India-China-South Africa) summit.
Talking about the visits, the Minister said that Modi's visits resulted in strengthening India's relations with other nations for various sectors like trade and investment, technology, defence collaboration.