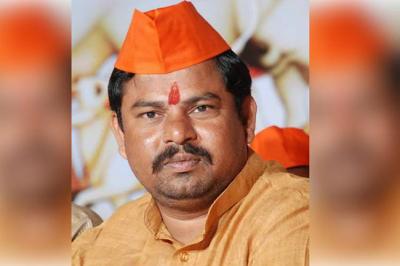 BJP's only MLA in Telangana assembly, Thakur Raja Singh, continues to be an enigma. His actions continue to cause confusion among the party leadership. Despite professing total loyalty to the party, he does things that raise deep suspicion about his motives.
Raja Singh is ever sulking. He is unhappy with his party leadership for not giving party positions to his men. He sulks for not being invited to key meetings. When invited, he doesn't attend the meetings. Even Bandi Sanjay is cut up with Raja Singh and his ways.
There is a deep suspicion within the BJP that Raja Singh is two-timing. The party leadership feels that Raja Singh is actually very pally with the ruling TRS and has some kind of tacit understanding with the party. The latest assembly session went on for eight days, but Raja Singh was present only for four days. What more? He absented himself on a day when the Telangana assembly was to pass a resolution against the Central Government's new power bill. Despite knowing that the issue would come up and that the TRS and the Congress will oppose it, Raja Singh chose to be absent from the house.
Many in the BJP are openly talking about Raja Singh being hand in glove with the TRS. They feel that Raja Singh deliberately lost an opportunity to defend the BJP in the assembly.