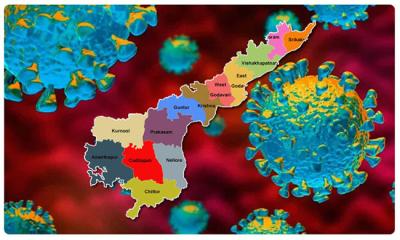 In a shocking development, fresh Coronavirus infections in Andhra Pradesh surged yet again as over 7,500 patients were found infected with the pandemic in the past 24 hours.
In the last 24 hours, 68,829 samples were tested and 7553 fresh infections were detected taking the toll of the total cases in the state to 6,39,302. So far 52,29,529 samples have been tested.
Between July and August, Andhra Pradesh faced the wrath of the virus outbreak as over 10,000 fresh cases were reported in the state during this period.
In a piece of good news, fresh cases have come down severely since the two weeks as around 8,000 fresh cases at an average were being reported. The other day, Andhra Pradesh witnessed 6235 new cases.
Fatalities in connection with the pandemic have also decreased as 51 people breathed their last in the past 24 hours. So far, 5,461 patients succumbed to the contagious disease.
On a brighter note, as many as 10,555 patients were declared cured and got discharged from the respiratory disease in a single day. A total of 5,62,376 patients have been recovered so far. There are 71,465 active cases in the state.
Since the last 10 days, Andhra Pradesh has been reporting over 10,000 recoveries adding over one lakh recoveries.
East Godavari which is the worst-affected region in the state has 88,935 pandemic patients, followed by West Godavari(59,697), Chittor(56117), Kurnool(54491), and Anantapur(53651).