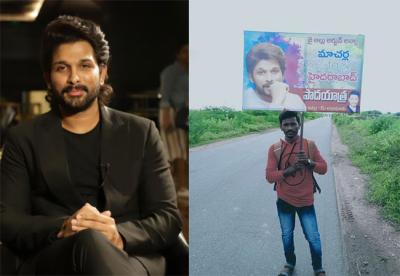 Without any doubt, one can easily say Stylish star Allu Arjun is one of the most happening stars in southern film industry and has a massive fan following. The actor enjoys the same craze and following, down south, as well as north in the country.
Many of his fans make attempts to meet the star actor for once in their lifetime. Now, a fan from Guntur district started padayatra to meet Bunny in Hyderabad.
Nageswara Rao from Kambhapadu, Macharla Mandal of Guntur district has started his padayatra from Macherla to Hyderabad on September 17 to meet Allu Arjun anyway. Rao says he is a big fan of Allu Arjun since from the actor's debut to the silver screen. He already tried to meet Bunny four to five times, but he failed then. This time, the youngster is very determined to meet the actor at any cost. He wants to have a picture with Bunny and wants to talk a few minutes with the star.
Let's see if the wish of Nageshwara Rao, who is doing such an adventure in the Covids time, will come true.