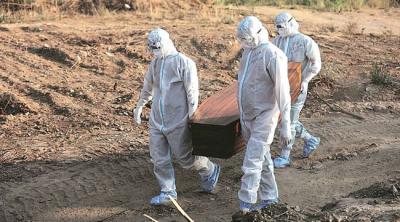 Given the Corona Protocols, family members of the deceased Corona patients cannot take part in their funerals as it may result in family members of the decreased contacting the virus.
This resulted in a new way of collecting money from the Corona decreased kin so conducted funerals. People who conduct funerals collect data of the deceased from the hospitals and their family members to demand money for the funeral.
One such incident surfaced in Amalapuram town of Andhra Pradesh. The news came to the limelight after a person reached the media claiming that he is receiving phones from people who claim to conduct funerals for his father who lost his life to Corona.
Earlier, also some family members reported to the cops that they received phones from Funeral conducting service persons to demand money to complete the funerals part.
The price for this service ranges from Rs 5,000 to Rs 50,000. To make sure that they conduct funerals for the correct person, they will do a video call with the kin of the deceased for their satisfaction.