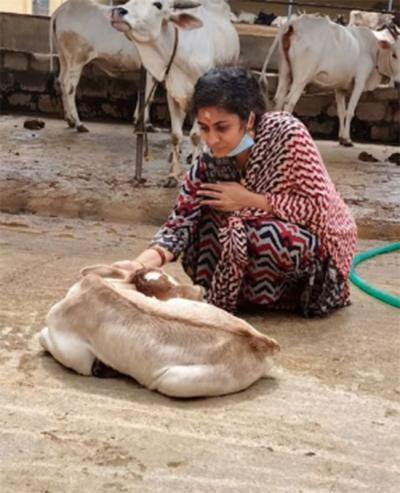 The politics in Amalapuram in East Godavari will now have a sparkle of glamour. Yes. Attention grabber politician Sadineni Yamini has broken her silence and has taken an active part in the protests against the burning of the ratham in Antarvedi. She chose to protest and got arrested in Amalapuram. She had managed to get a good crowd around her and led a rally protesting against the burning down of the temple chariot. She was seen to be very active and led the sloganeering herself. She also resisted arrest by squatting on the ground. She managed to grab quite a few eyeballs in the process.
Ever since she joined the BJP, Sadineni Yamini has changed her name to Sadineni Yamini Sharma and has been flaunting her Brahmin roots. But, for months, she remained silent and did not even issue a statement. The BJP too did not give her any post of importance. She was given the post of the representative for South India for the Varanasi Vishweshwar Temple Trust. But, that's an inconsequential post for a high-profile politician like Sadineni Yamini who was popular as a TV personality in defence of the TDP.
Yamini's new-found activism in Amalapuram was also marked by the presence of  BJP biggie Sunil Deodhar, who is in charge of the AP BJP. This showed that she has managed to impress the top leaders and is on way to gaining their confidence.