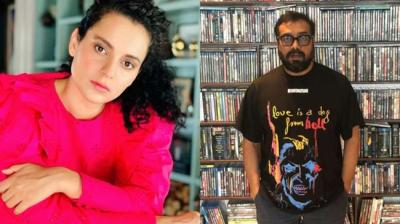 A fresh controversy shocked Bollywood after an Actress made serious allegations on noted director Anurag Kashyap and accused him of forcing himself on her.
Actress Payal Ghosh accused Anurag Kashyap and said that the director got naked and tried to get intimate with her. The actor's allegations became the talk of the town.
Kangana Ranaut came in support of Payal Ghosh and breathed fire on the director. She lashed out on Anurag Kashyap over the allegations on her Twitter handle.
She called Bollywood as Bullywood and said, the industry treats the  struggling outsider girls  as sex workers
"I far as I know Anurag self admittedly has never been monogamous even when he was married to various people, what Anurag did to Payal is a common practice in Bullywood, treating struggling outsider girls like sex workers comes naturally to them #AnuragKashyap #PayalGhosh." Kangana Tweeted.
She even mentioned Phantom Productions, which was dissolved after some of the partners of the production house faced #Metoo allegations and said Anurag is capable of doing Payal Ghosh allegations.
Replying to Payal's Tweet, Kangana said many big heroes did what Anurag did to the actress. Kangana alleged that after locking the vanity van or room door, heroes flash their genitals.