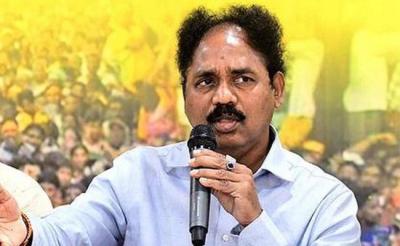 The opposition Telugu Desam Party(TDP) and party chief Chandrababu Naidu faced a jolt after one more lawmaker is reportedly planning to change his loyalty to the ruling YSRCP from TDP.
It has been reported that MLA Vasupalli Ganesh who represents the Visakhapatnam South constituency is going to leave TDP and join the YSRCP. For quite a time, the MLA is keeping himself away from the party activities.
Vasupalli Ganesh is likely to meet Andhra Pradesh Chief Minister YS Jagan Mohan Reddy at the CM Camp office in Tadepalli today.
However, he might not join the YSRCP right away as Jagan earlier stated that leaders joining his party should resign from his post and contest the elections, unlike what Chandrababu did during his regime.
Looks like the lawmaker might follow the footsteps of Vallabhaneni Vamshi Mohan, Karanam Balaram, and Maddali Giri. The trio has been supporting the YSRCP being in the TDP party.
Ever since the TDP lost the 2019 General Elections cheaply by winning only 23 MLA seats, leaders in the party started either shifting their loyalties or supporting the ruling party.
If Vasupalli Ganesh too joins the list of rebel lawmakers, then the official count of MLA who will stand with the TDP will be a mere 19.