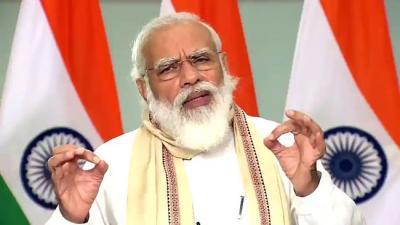 A day after two of the three farm bills was passed in the Lower House of the Parliament, Prime Minister Narendra Modi lashed out at the critics of the bills and said the detractors are spreading misinformation about the bills.
Narendra Modi said that the bills aimed at bringing reforms to protect the interests of the farmers, but still the critics are spreading lies over the new bills.
He made these comments while addressing a ceremony that was held to dedicate a railway bridge in Bihar. Along with the address, in a series of tweets, he targeted the opposition and critics.
Without mentioning the Congress leaders' name, Modi said, the leaders who have ruled the country for decades are trying to mislead the farmers and are telling lies to them.
Talking about the new bills, Narendra Modi opined that the farmers will get new freedom and the reforms result in the farmers getting more opportunities to sell their crops.
The Farmers' Produce Trade and Commerce (Promotion and Facilitation) Bill, 2020, and The Farmers (Empowerment and Protection) Agreement on Price Assurance and Farm Services Bill, 2020 bills were approved in the Lower House with a majority votes.