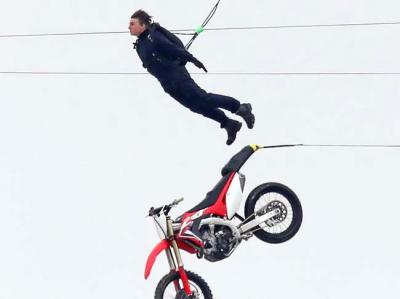 "Mission Impossible" actor Tom Cruise seems to be preparing to entertain the audience with amazing stunts once again. Previous movies of MI series have shown the Hollywood actor engaged in some gripping action scenes.
Now, the upcoming film will have motorcycle chase sequences that will get audience hearts racing. One such stunt was being filmed in Norway by Tom Cruise himself.
The stunt was shot in Norwegian fjords of Hurtigruten which shows Tom riding a motorcycle and then jumping off a cliff.
Surprisingly, the 58-year old actor didn't use a safety harness or cable while performing the stunt. It shows Tom jumping off a cliff on his motorcycle, free-falling for a few feet and then opening up a parachute to break the fall. The video is going viral on the Internet now.