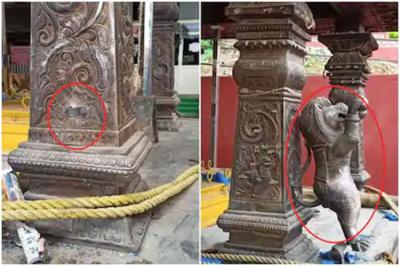 While the discussions and debates over the ancient temple chariot at Antarvedi catching fire and destroyed completely, one more Hindu temple got subjected to attack.
Going into detail, three silver lion statues that were fixed to the temple chariot of the famous  Kanaka Druga shrine in Vijayawada went missing reportedly.
It has been widely reported that three out of the four silver lion statues affixed to Durga Malleswara Swamy chariot went missing and the three lion statues weigh about three kilograms each.
Following this, a committee was constituted under the leadership of the Endownment Commissioner to probe into the alleged lion statue missing. After the committee submits its report, the government will take action agonist the guilty.
The temple chariot that was used during the  2019 Ugadi festival, which marks the Telugu New Year was kept aside since then as Ugadi 2020 was suspended with the pandemic outbreak.
Opposition TDP and Andhra Pradesh wing of BJP severely slammed the incident and batted for a comprehensive probe against the incident and the action to be taken against the people behind this.