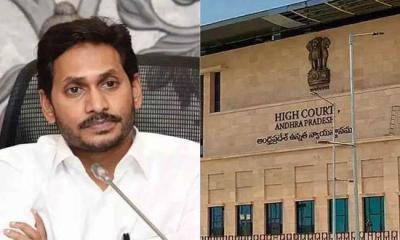 The Andhra Pradesh government led by Chief Minister YS Jagan Mohan Reddy which has been batting for probe into the alleged land scam in Amaravati during the regime of former CM Chandrababu Naidu has called for a  Special Investigation Teams or SIT probe in connection with the land scam.
The SIT reportedly submitted a report over the land scam based on which the  Anti-Corruption Bureau(ACB) sleuths have registered cases against 14 people, including former Advocate General Dammalapati Srinivas who worked under the regime of Chandrababu Naidu.
Now the Andhra Pradesh High Court stepped in and issued interim orders to stay the formation of SIT over the alleged land irregularities in the Amaravati region.
While issuing stay orders, the High Court ruled out to not take any action in this regard until further orders.
The case reached the court after TDP leaders Varla Ramaiah and Allapati Raja knocked on the doors of the court challenging the probe of Special Investigation Teams over the alleged land scam.
The government issued orders to SIT probe into the alleged land scam in the Amaravati region based on the report submitted by the Andhra Pradesh Cabinet Subcommittee