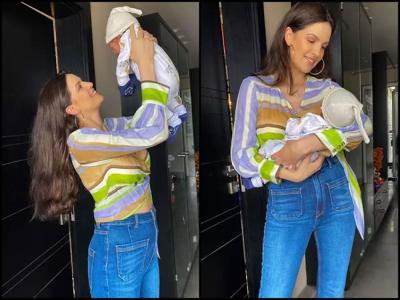 Actresses and Cricketers form the best pair and the couple quotient is high for these two fields . Natasha Stancovic, a model and actress and Cricketer Hardik Pandya are one of the popular couples these days and stayed in the media for their love and marriage. In the month of May itself the couple announced that they are expecting a third member in the family and thus Hardik revealed pics of Natasa's pregnancy on his social media handles.
Now the latest news shared by Natasha is that she feels complete only with the arrival of the baby and has shared her pics with the baby boy.It is evident that Hardik has been brave to announce his girl friend's pregnancy even before marriage!
Earlier the actress and model proudly blushed saying that Hardik only makes her the complete woman that she wished to be! Natasha is happy being a pregnant and earnestly waiting to be the mother of her love!
It is evident that her boyfriend Hardik Pandya is one of the dashing all rounders in cricket this age. He has a huge fan following but Natasha never takes advantage of that but creates her own identity with her career as a model.