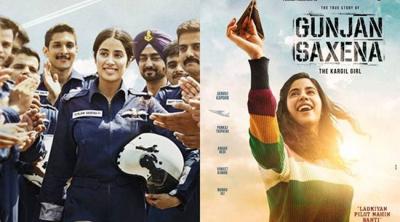 The death of talented actor Sushant Singh Rajput already affected the beauty Jhanvi Kapoor as she is unable to promote her big film 'Gunjan Saxena' that is all set to release on Netflix soon due to nepotism remarks. Now after the trailer release, IAF has sent a letter of objection to CBFC, Dharma Productions and Netflix that the film had some objective dialogues that are derogatory to the status of IAF. They even said that we have permitted the makers only when they promised that they would make a film on IAF which would be an epitome of proud to the entity.
In Bollywood, the OTT releases are just increasing day on day.'Gunjan Saxena' starring Jhanvi Kapoor in the main lead is a biopic and is produced by Karan Johar. He has good ties with Netflix and talks were finalized to stream 'Gunjan Saxena' on Netflix on August 12.
On the latest Karan is also affected badly by strong nepotism comments on him on him and Jhanvi even for a patriotic film like Gunjan Saxena shocked Bollywood men who are now unable to promote Jhanvi's film Gunjan Saxena Or any upcoming film that has nepotistic actors!