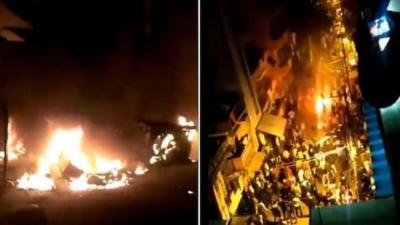 The unrest that took place in the East Bengaluru area during the late hours of Tuesday night with a Congress leader's relative reportedly sharing a derogatory post on Facebook claimed three lives.
Karnataka Chief Minister BS Yediyurappa responded to the sad incident and condemned the incident and said that stringent action will be taken against the culprits.
Going into details, Naveen, nephew of Congress MLA Akhanda Srinivasa Murthy allegedly shared a derogatory post on social media that hurt a particular community which led to violence.
Following this, a mob gathered outside the lawmaker's residence and damaged the vehicles. Reportedly, after the accused was shifted to a police station, the mob targeted the Police Station too.
The cops took 110 people into custody with this and the accused was also arrested for reportedly sharing a derogatory post. Investigation in this case is underway.