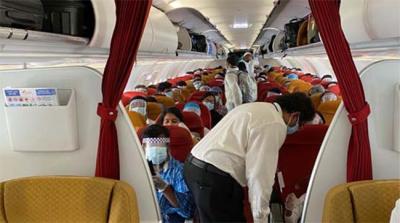 The Centre led by Prime Minister Narendra Modi started Vande Bharat Mission (VBM) to airlift the Indias struck at other countries due to the pandemic outbreak followed by the lockout.
So far, under the Mission, the government managed to bring back Indians to their homeland who were going through tough times with the prevailing situations.
Talking about the mission, Ministry of External Affairs (MEA) Spokesperson Anurag Srivastava said that so far more than one million Indians were airlifted under the Vande Bharat Mission.
The Spokesperson took to Micro Blogging site Twitter and said, the Ministry of Civil Aviation continues to make efforts to airlift the Indians back in collaboration with the Ministry of Home Affairs and Ministry of Health and Family Welfare.
On the other hand,  Civil Aviation Minister Hardeep Singh Puri said that after the Airlines were permitted to resume its operations, more than 130 k passengers traveled to other nations.