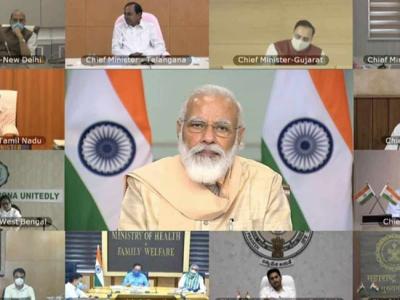 Prime Minister Narendra Modi who chaired a video conference with the Chief Ministers of the states to discuss the situations in the state with the virus outbreak stressed about increasing the pandemic tests.
PM Modi spoke to Chief Ministers of ten states that are worst-affected with the ongoing pandemic and asked them the measures taken in the respective states to contain the virus.
He said that in the states that carry out less number of pandemic tests, the positivity rate is high and urged the states to increase the pandemic tests so that more infections are detected.
Chief Ministers of Andhra Pradesh, Karnataka, Tamil Nadu, West Bengal, Maharashtra, Punjab, Bihar, Gujarat, Telangana, Uttar Pradesh took part in the video conference with Narendra Modi.
PM Modi went on to say that these 10 states account for nearly 80 percent of the total cases and these states play a crucial role in combating the virus and rooting out the disease.
With 53,601 fresh cases reported in the last 24 hours, the total cases in India increased to 22,68,676. So far 45,257 people succumbed to the contagious disease in the country.
image.png