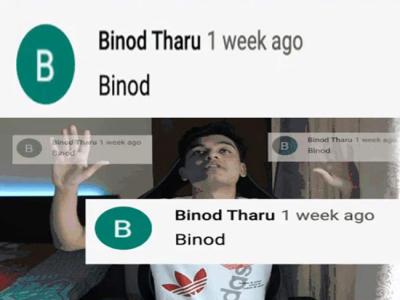 From the past few days, the 'Binod' memes have been everywhere. People are using this meme for everything and it is trending now. We have witnessed Paytm changing their name to Binod and so is Kingfisher. Also, Mumbai police warned Binods not to use their names as password as can be easily hacked.
Starting from celebrities to regular people, everyone is using these Binod memes and making fun of Binod but do you know the real story behind Binod getting so popular?
A Youtube channel named Slayy Pot made a video where it reacted to the comments that usually get posted on their videos. It was a funny video that roasted those comments, they highlighted one particular comment with said "Binod".
Fact is that a person named Binod Tharu posted comments 'Binod' on their videos which made the people of Slayy Point flabbergasted. Since that video from this Youtube channel got released on 15th June, 'Binod' meme is getting widely popular. The video went viral and so did the memes on 'Binod' across all the social media troll pages.