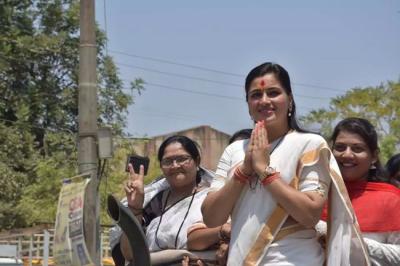 Glamorous film star-turned-politician Navneet Kaur, who is also an MP from Amaravati in Maharashtra, has tested positive for Corona. Shockingly, not just she, but 11 members of her family, including her husband Ravi Rana, who is an MLA in Maharashtra, tested positive for Corona.
No w all of them are in home quarantine and are under treatment. Navneet Kaur, who sizzled in several Telugu films and oozed oomph, has later joined politics in Maharashtra. She has contested as an independent and has won from Amaravati. Known for her hard work, Kaur moved in the lanes and bylanes of Amaravati and counseled the people on social distancing. The doctors suspect that she had moved openly despite suspicion that she was covid positive. They feel that her neglect has done immense harm to her family as at least 11 members have tested positive and several others are now suspected of bein g positive.
Navneet Kaur has acted in films like Srinu Vasanthi Lakshmi, Satruvu, Jagapathi, Goodboy and Roommate, Ranam, Yamadonga and several other films. She later married Maharashtra politician Ravi Rana and joined politics.