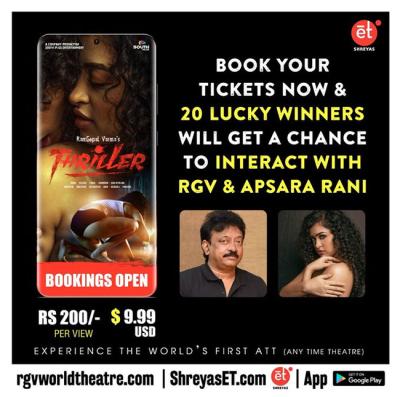 Ram Gopal Varma aka RGV has yet again bacame a sensation now as film lovers and film industry folks question his ethics and attitude for selling soft porn on OTT platform even after being considered as a great filmmaker!
Recently the ace Director Ram Gopal Varma revealed that he is all set to release the film named 'Thriller' on August 14 night 9 pm. The film stars Odisha girl Apsara Rani and Rock Kachi.
On the latest RGV has announced that 20 lucky winners will get a chance to meet him and Apsara Rani for a chit chat session and thus he asked the youth and movie lovers to use the opportunity. He priced the ticket at Rs 200 per view on OTT platforms Shreyas ET and RGV World Theatre.
Considering the great wave he brought in films he is treated like a genius but he is never treated as a demigod of the olden days now due to his cheap films!