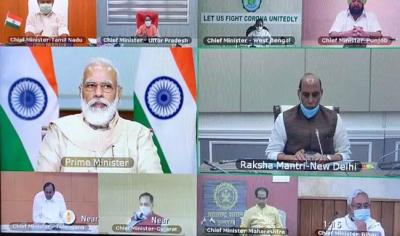 In the wake of the situation in India reaching an alarming situation with the deadly outbreak of the ongoing pandemic, Prime Minister Narendra Modi chaired a crucial video conference with Chief Ministers of the state that are severely affected by the virus.
PM Modi held a video conference with the Chief Ministers of Andhra Pradesh, Karnataka, Tamil Nadu, West Bengal, Maharashtra, Punjab, Bihar, Gujarat, Telangana, Uttar Pradesh.
PM Modi said that these ten states are the worst-affected states in the country and account for around 80% of the total infections of the dreaded virus in the country.
Modi opined that if these states contain the virus and root out the contagious disease, then India can become pandemic free and if this becomes, then it will be India's victory.
At the video conference, PM Modi shared his happiness of the growth in the recovery rate of the pandemic and this is an indication that India is going in the right direction.
This marks the seventh video conference of Prime Minister Narendra Modi with the Chief Ministers of the states ever since the ongoing pandemic hit the country very hard.