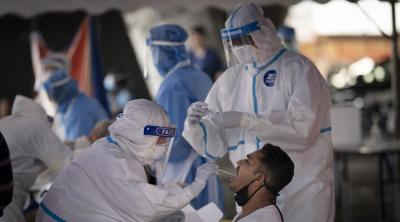 India continues to suffer from the outbreak of the ongoing pandemic as the fatalities and fresh cases are increasing at a rapid phase. In the last 24 hours, India recorded the highest number of fresh cases and fatalities so far.
Despite all these fears, the only good news is that the recoveries of the virus that are growing gradually pass surged the 15 lakh-mark with 15,35,744 recoveries. This translated to a recovery rate of 69.33%.
India also reported that most number of recoveries in the country ever since the virus hit with 54,859. The recovered cases in the country doubled than the active cases.
If the recovered cases continue to increase at the same phase, within no time the recovered cases will be tripled than the active cases of the ongoing pandemic in the country.
With 62,064 fresh cases reported in the last 24 hours, the total cases in the country rose to 22,15,075. The recovered cases and active cases stood at 15,35,744 and 6,34,945 respectively.