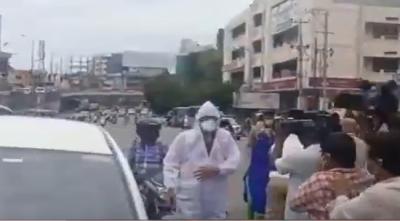 Veteran Communist and Left loud-mouth K Narayana has shocked everyone the other day when he joined a protest against the government in a Covid PPE protection equipment. He had a headgear and a full body protection clothing besides a face shield and even a mask.
However, he ensured that he did not stay out for long. The moment he came, the police whisked him away from the scene. His whole protest lasted barely a couple of seconds. But, Narayana got the kind of coverage he wanted. But, all through, he was extremely careful not to touch anyone. He kept a safe distance from the other protesters and did not even put up a resistance when police tried to arrest him. He himself went into the car and sat in a safe corner.
Narayana's protest is now the talk of the town. His safe distance from the protesters and police alike is now been shown as an example of how to stage a protest in times of Corona. The grapevine has it that more politicians are now planning to stage similar protests complete with PPEs.