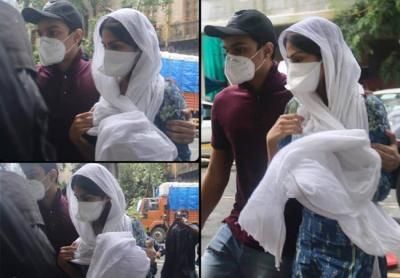 The truth behind the death of Bollywood young talented actor Sushant Singh Rajput is not yet revealing. It is becoming like a chain reaction day by day.
Soon after KK Singh the father of Sushant has filed a case against Rhea Chakraborty saying that she has been the cause of his son's death and exploited him financially. He alleged that 15 Crore rupees went missing to anonymous account due to Rhea. Bihar Police would now interrogate Rhea as they filed complaints under different sections like 420, 341, 342, 323 and 406.
 Enforcement Directorate has entered the case to check how the huge money changed hands and thus they have sent notice to Rhea Chakraborty to attend for questioning in a week.
On  the latest, today ED has grilled Rhea for almost 6 hours and sources said that she was asked about her IT Returns and recent purchases and assets. It is said that if she doesn't answer or escape questions she would be arrested and grilled more. On the other side she has requested for postponement of ED investigation on her until her plea comes to hearing in Supreme Court.
Recently Rhea responded on KK Singh filing case against her. She started war of words from her side on the said allegations of looting Sushant's money. She has said that all the allegations are false and Sushant's father doesn't know anything.