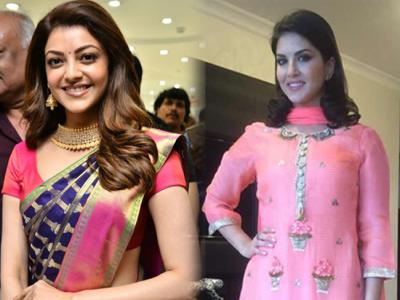 Kajal Agarwal is a busy actress nowadays with films like 'Indian 2', 'Mosagallu' and 'Acharya' in her hands. Venkat Prabhu recently revealed that she will also be a part of a Tamil web-series which will be streaming on Disney Hotstar. The official announcement regarding this series is expected soon.
On the other hand, Kollywood circles claim that this sizzling actress has not replaced Sunny Leone in an adult-comedy. News is that Sunny Leone was supposed to play a key role in this film but after listening to the script, Kajal reportedly showed interest in Sunny Leone's role instead of the lead character. As Kajal is more popular down South, reports say that the makers gave the role to 'Thuppaki' actress.
People are guessing that it is going to be a role with heavy glamour dose as Sunny Leone was supposed to do that. With Kajal taking up the role, her fans and general audience are now very eager to watch this adult-comedy. Kajal never acted in an adult-comedy film before but it looks like she is all set to cross the boundaries for the first time during the last stages of career. If this turns out to be true, the fans are definitely in for a glamour feast.