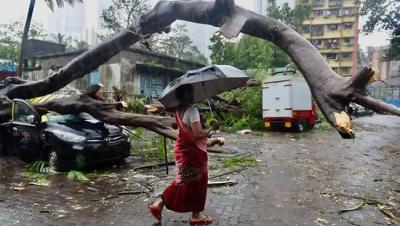 Maharashtra which is suffering from the ongoing pandemic faced another loss with financial capital Mumbai reporting the highest rainfall of the season in a single day.
With 331.8mm rainfall, Mumbai recorded the highest rainfall since 1974. The heavy rainfall including cyclonic winds started in the Colaba area in Mumbai from 8.30 am Wednesday.  
Following this, all the offices, barring essential services, remained shut in the area as heavy rains are expected to hit the city in the coming 24 hours.
The heavy rains resulted in Vihar lake, a reservoir that supplies water to financial capital Mumbai overflowing since yesterday, and its catchment areas were filled with rainwater.
Maharashtra Chief Minister Uddhav Bal Thackeray urged people to not step out of their residences until its emergency as the situations are scary outside.