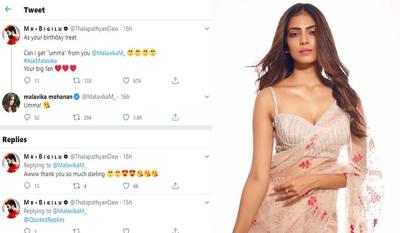 Kerala beauty Malavika Mohanan is eagerly waiting for the release of her big film 'Master'. She romanced Vijay in this film and Malavika is hoping that this film will take her to the next league. She was supposed to make her Tollywood debut with Vijay Devarakonda's 'Hero' but it got shelved.
Nonetheless, this gorgeous girl knows how to engage people on internet and use social media to her advantage. She made a lot of people turn into her fans through some stylish and steamy photoshoots. Malavika can literally set anything on fire with her seductive appeal and oomph factor.
Apart from that, she recently flirtatiously teased a fan of hers on Twitter. Her fan asked Malavika if he could get a 'Umma' from her as it is his birthday and Malavika stunned him by sending his 'Umma' through her reply. How cool was that! The dusky siren sure knows how to weave a spell on her fans and make them her life long devotees. Even before her big break, Malavika is turning out to be a star with her spunky and exquisite attitude.