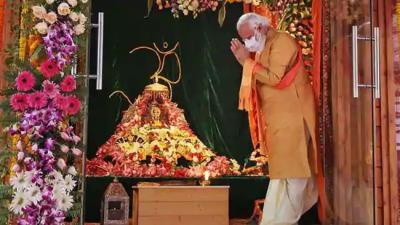 Prime Minister Narendra Modi who laid the foundation stone for the Ram Mandir construction at Ayodhya, addressing the attendees of the groundbreaking ceremony and gave an emotional speech.
PM Modi started his address by chanting Jai Shri Ram and said the historic movement took place after hundreds of years and Ram Lalla will get a temple now who has been living in tents for years.
"The way Dailts, Adivasis and all the members of the society helped Mahatama Gandhi in the freedom struggle... the same way, the construction of Ram temple has started due to the support of people across the country," Narendra Modi said.
Narendra Modi went on to say that with the construction of this temple, not only history is being made, but is being repeated At the event, Prime Minister Narendra Modi released a commemorative postage stamp on Ram Mandir.
Narendra Modi thanked each and everyone who sacrificed their lives for the construction on Ram Mandir  on the behalf of 135 crore Indians and termed the situation as historic