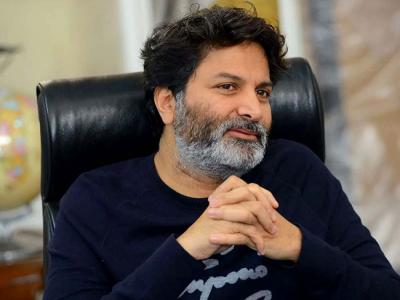 Trivikram is busy in writing and pre-production works of Jr NTR film which is slated to go on floors when 'RRR' shoot gets done and that is most probably by October said the latest News sources.
Now as the crisis  is in its worst phase, The prior plan may not work for either RRR makers or Trivikram's Unit. Few Tollywood Sources reveal that the film NTR#30 is in jeopardy and may not go on floors this year. The reason is obviously the left over portions of 'RRR' and Rajamouli may take good time to can the said portions.
The postponement was not well received by Guruji but he can't move immediately to another project due to the pandemic. The Tollywood sources said that Trivikram is going to take a huge pay cheque for this NTR film which is about 20 Crores. On the other side NTR is going to get 40 Crores and profit shares to his brother Kalyan Ram as Royalty.
Trivikram is in his best phase after his recent film 'Ala Vaikunta Puram Lo' registered huge numbers at the Box Office and thus all the A-lister actors are just luring the director to make a film for them!This is the reason all the producers want to make a film with this magical writer-director by offering him hefty pay cheque even in this crisis! Let's see whom this maverick writer-director directs after the NTR film!