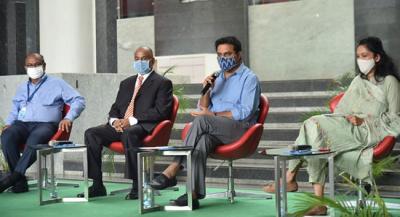 In the tough times of ongoing pandemic ringing the danger bells in the country with the rapid spread of the virus, Telangana Minister of MA&UD, Industries, and IT&C K. Taraka Rama Rao said Hyderabad will produce the vaccine to cure the disease.
KTR who recently visited the Bharat biotech vaccine production center to take part in a conference said, the Covaxin produced by the Bharat biotech has the potential to become the first vaccine to cure the pandemic
The IT Minister maintained that the partnership of India in producing the vaccine has increased with the virus outbreak and the current situation has also increased the prominence of Hyderabad.
Speaking at the same conference, Chairman & Managing Director of Bharat Biotech Dr. Krishna Ella said that the vaccine which will be produced by the bio-therapeutics manufacturers will cost less than a water bottle.
The pandemic cases in the state rose to 68,946 with 1,286 fresh cases reported on a single day. With 12 fresh casualties, the total fatalities in the state mounted to  563 in the state.